Patio & Paving Services in Barre, Massachusetts

Create your own private outdoor oasis to enjoy with family and friends. Carve out your landscaping to make room for beautiful patios, walkways, extended driveways and parking lots.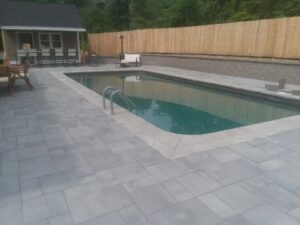 When you look around your outdoor space, does it feel like something is missing? Perhaps a nice new swimming pool patio? 
Pool Paver Installation in Worcester County
Close your eyes an imagine going for a nice dip in the pool. Really nice, right? Now imagine stepping out of the pool and landing on a loose, or cracked paver. That doesn't sound like a good time, now does it? Fixing up your old tired pool pavers or even installing some new ones can add such charm, such intrigue to your backyard! The top-rated patio pavers installation service in Worcester,MA. can also take care of your backyard patio too, just saying.
Maybe the patio just isn't doing it for you anymore. Whatever it may be, the top-rated pavers installation company in Worcester,Massachusetts has got you covered. We are a group of the best paving contractors in Worcester,Massachusetts so we know what we are doing, and we know how to do it right. The last thing you will need to worry about is if you will be happy in the end. Worcester,Massachusetts pavers company Pinwheel Property LLC. can guarantee it.

Using the best materials is a key aspect of getting the best driveway pavers in Worcester,Massachusetts.; or pool paver or patio pavers or even if you decide to go with something like travertine, cobblestone, brick, old Chicago pavers, asphalt, or concrete. The best paving contractors in Worcester,MA. are just that. We are professionals and we know what we are doing and do it well! We give you the best customer service because we know what is important. Let us come to your home and/or business and give you a paver job that will put all other 'best-paving companies in Worcester,MA." to shame.
We also make beautiful Retainer Walls
So, let's a recap. our Worcester County patio paver installation company for driveways/patios/concrete/outdoor work and last but not least wall retainers, only with top materials, our customer service is unbeatable as well as our installation process… I still don't understand what you are waiting for! Your driveway, patio, back patio, wall retainers. All of these places could be beautiful like you could never imagine if you chose the best paving company  in Worcester,MA.! Your guests will be astonished; the strangers that pass by will no longer scoff but wish! Wish that they were smart enough to call the top-rated pavers installation company in Worcester,MA. like you were. That's okay though, you can help them out by letting them know that the best paving contractors in Worcester,MA. is ready to make their dreams come true. Ok that's it but one more thing before we go you must look at our before and after pictures of one of our projects we did in 2021. Pinwheel Property Maintenance LLC.
scroll L/R on the middle circle to preview the our Before And After!